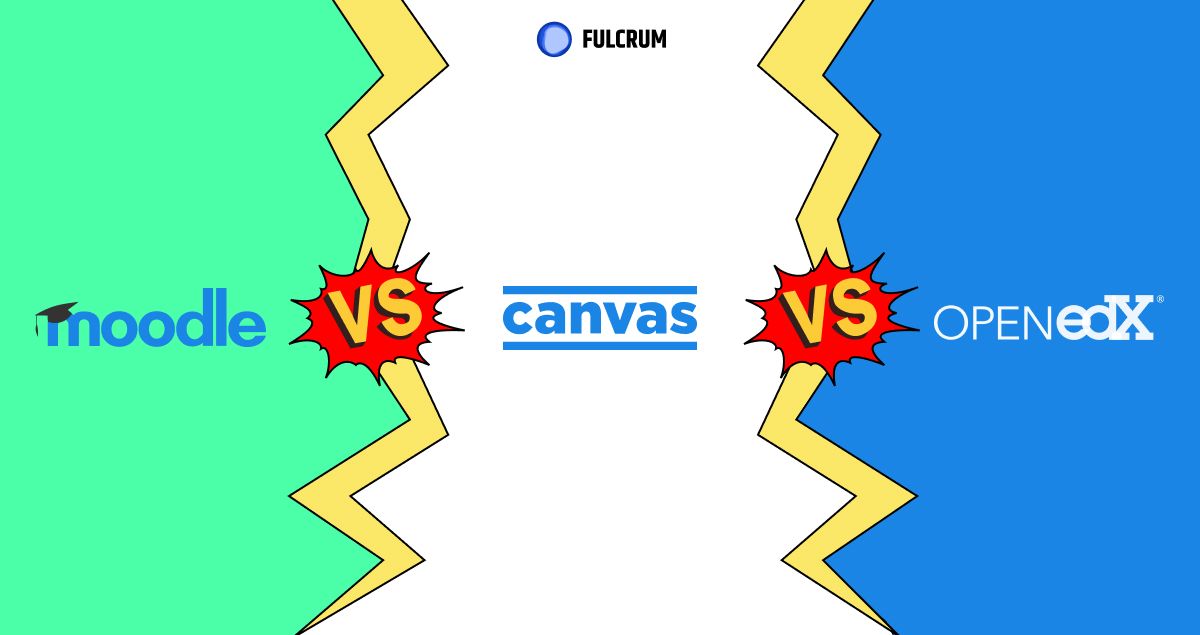 $28 million. That's exactly how much LMS-based startup, Lead School, has raised in the recent investment circle. So, what can we say... LMS never get out of fashion in edtech. But how to choose the most suitable LMS?
Today we will compare three popular ones: Moodle vs Canvas vs Open edX. Let's go step-by-step. Or in our case, characteristic by characteristic:
Pricing
Ease to use
Features
Integration with tools, apps, APIs
Community support
Functionality Customization and Technologies
Pros and Cons: Moodle vs Canvas vs Open EDX
Benefits and Risks of Open Source LMSs
Which LMS to Choose?
Kick Off Your Education App Development: How to Create an E-Learning App
Pricing: Moodle vs Canvas vs Open edX
Nah, price is always important, in choosing an LMS as well... All three options (in case you forgot, we're talking about Moodle, Canvas and Open edX) offer free open source platforms for integration on your own servers. All the functionality of Open edX is completely free, while Moodle and Canvas offer several paid products in addition to their open source platforms.
Thus, Moodle has developed a cloud product, MoodleCloud, which allows you to create an educational space without installation. It is possible to test the product with a free trial for 45 days. After that, there are several paid options to choose from. They differ by the number of users and amount of storage for training files:
Starter plan for 55$ per year (up to 50 users, 200 MB of storage);
Mini planfor 175$ per year (up to 100 users, 200 MB of storage);
Small plan for 350$ per year (up to 200 users, 400 MB of storage);
Medium planfor 700$ per year (up to 500 users, 1GB of storage).
Canvas offers several free options. First, there is a free 14-day trial of a work account with embedded course content. Besides, good news for teachers – the company offers them an unlimited free account. For educational platforms with multiple instructors, Canvas offers a paid account option. The amount of fee is defined individually in each case and depends on several factors like the number of students, the size of the school, the need for support etc.
Ease to use: Moodle vs Canvas vs Open edX
Well, start looking for some professional help. Open source versions of Moodle, Canvas or Open edX are not easy to set up and administer. Yet, open source technology makes your life easier — you can create and customize working tools for yourself, or use ready-made options from the community. What's even better, all three systems have mobile applications, which will allow studying even without a laptop or PC at hand.
Moodle
Forum users note Moodle's clear design and user-friendly interface. You can change its functionality and interface just by downloading plugins from the official website. Moodle plugin base is one of the largest. So, you'll have options to choose from. In addition, the system supports third-party plugins and can be easily integrated with other services.
Canvas
Canvas is focused on maximizing the involvement of teachers and students in the educational process, so its main features are sharpened precisely for this. The interface boils down to clear design solutions, and all functionality is built on modern teaching methods. For instance, Canvas has lots of tools to work with integrated video and multimedia. One of them, Arc, allows make videos more collaborative and interactive. Still, Canvas has poor built-in tools for gamification of the learning process, so you need to use third-party tools.
Open edX
Open edX is a course management system. The platform is easy to use, since it is designed to simplify communication between teacher and student & to make it more interactive. Open edX includes two products: the LMS for managing the learning process and Studio, content creation product. Content is implemented through special block plugins that allow you to add interactive elements and provide a great level of flexibility to Open edX.
Features of Moodle, Canvas, Open edX
Boring and practical info alert. That's because features and audiences of Moodle, Canvas, OpenedX are quite similar to each other. However, there are some slight differences.
Features of Moodle
Moodle is the model of a classic online classroom for a small number of students. It is more suitable for teaching in schools and universities. This LMS outperforms others due to its large community, which regularly creates add-ons for Moodle. Thus, the system is quite flexible in its settings and adapts to specific needs.
It is convenient to work with content in Moodle — you can easily upload texts, audio, video, images and presentations. you can also create text lectures and surveys for courses. Through special plugins you can connect additional web services to create courses. Moodle has options for distributing user roles and grouping them. Other settings and registration parameters are added using plugins.
System reporting also depends on plugins. Having installed all the necessary modules, you can customize the system for yourself and use only the necessary parameters. That makes Moodle more suitable for projects with traditional way of online learning.
Features of Canvas
Canvas has a different focus — involvement of students and teachers in the educational process. However, LMS is intended for use exclusively in schools.
The system can easily scale up depending on your needs. An important feature of this LMS is that it does not implement such tools for creating content as plugins, unlike the same Moodle.
Instead of plugins, users can use built-in tools, such as MasteryPaths, a tool for differentiating students based on academic performance, or Canvas Parent, a system feature that allows parents to directly participate in their children's learning by checking their progress and accessing homework.
One of the main features of Canvas is Arc — an advanced tool for video conferencing with students.
Features of Open edX
The Open edX system, in turn, was developed for the field of online learning. In most cases, it is used to run massive open online courses. However, the platform is easy to scale and can be used for teaching from a few students to hundreds of thousands of students.
Today, Open edX is also used by corporations, international and public organizations. It allows students to get more interactive and engaging learning experience than classic online classrooms. Teachers independently and quite easily can add all the necessary interactive elements of the courses themselves using the xBlock plugin technology.
Simply saying, Open edX is modern, minimalistic and user-friendly LMS. It is aimed at a large number of students, flexible in use and provides a large number of options for interactive immersion in the learning process.
Integration with tools, apps, APIs
Integration in LMS? Pfff, of course. It's a defining feature while choosing LMS. So, let's have a look at how our three competitors can be integrated.
Moodle
Moodle can be integrated with a variety of other programs to suit different needs. First of all, Moodle allows you to integrate a large number of plugins and modules from its own database. It also supports the most popular standards in e-learning — IMS, AICC and SCORM. The most popular programs for integrating with Moodle are Zoom, Wordpress, Shopify, Drupal, Microsoft Office.
Canvas
In Canvas, many options are integrated into the system by default. For example, SCORM, Podcasts or ePortfolios. In addition, a large number of third-party tools can also be integrated into Canvas: all of them you can find in Canvas EduAppCenter.
Open edX
We've already mentioned that Open edX is flexible. So, logically, it can be easily integrated with third-party items... The system allows you to add third-party modules and tools using Representational State Transfer APIs, Javascript Object Notation, and OAuth2.0 authentication system. The easy-to-use API allows you to integrate almost any third-party program into Open edX. There is a large base of Xblock plugins you can also integrate into the system and use to create content.
Community support: Moodle vs Canvas vs Open edX
A large community is an important aspect of choosing the right LMS. All three systems have a large user base, but they all differ from one another. If Moodle and Canvas are used mainly in the field of K-12 education, then Open edX is more for students of higher educational institutions and massive online courses.
Moodle
Moodle communityis centered around the site, which publishes the latest updates and releases, platform news. All custom modules and plugins for LMS are collected in a separate section of the site. Besides, users can discuss Moodle on a special forum. The cloud solution MoodleCloud contains a special intelligent assistant Moodle Partner for the support.
Canvas
All the latest information about Canvas is published on the Instructure website. It also contains a detailed FAQ with answers to the most popular Canvas-related questions. there is also a special section for discussions on the site. In addition, Canvas allows you to contact support representatives via phone and email, which simplifies communication.
Open edX
Open edXalso provides extensive community support. LMS has its own website with detailed information about the platform, user cases and solutions for the industry. The discussion forum includes various audiences — community, educators, developers, and others. They can contact the Open edX team through a special form on the site, as well as via email. In addition, it is possible to connect to a real-time chat discussion in Slack.
Functionality Customization and Technologies
Moodle
Moodle can be used both for educational institutions and for corporate training. It is extremely convenient for its multilingualism: the platform has been translated into more than 120 languages. All platform customization takes place through plugins, so the functionality and design can be adapted to suit your needs. you can develop your own extensions. Today the Moodle database contains more than 1500 custom modules and plugins, which makes the platform technologically flexible. Plugins allow you to add new functionality without changing the core code of the platform.
Moodle helps to create a new learning environment: you can develop courses and always have free access to students, assignments, grades and notes. The platform is available for both desktop and mobile devices. Among other features is functionality to gamify the learning process through plugins, develop learning calendars and create special certificates for course graduates. Due to the active community and a large database of plugins, Moodle can be filled with content in almost any format, from texts to quizzes and games. The same goes for reports: customized plugins allow you to extract only the most necessary analytics numbers.
Wanna sell your course? In Moodle,  you can set up the sale of your online courses directly on the platform via a special plugin.
Canvas
The functionality of Canvas includes tools for creating courses, open API and support for numerous third-party extensions and integrations. With all thism users canexpand the functionality of the platform even without having IT knowledge. Other Canvas features include a convenient user interface, enhanced security and opportunities for mobile learning All  main Canvas extensions are collected in a special EduAppCenter, which makes it easy to find and work with them.
Canvas is also well integrated with social media such as Twitter and Facebook. The exclusive Arc video platform allows creating video conferences and sharing video comments between students and the teacher.
Open edX
Open edXis a learning management system that is designed to be used throughout the entire learning process by multiple user groups: learners, course organizers, and educators. Instructors can publish courses, host discussion boards, manage groups and teams, edit grades, and communicate with students. Students, in turn, can access their profile, check registration status, and view courses through the student dashboard.
The platform is available for use on both PCs and mobile devices. Materials in Open edX are easily imported from Camtasia, Articulate Storyline, Adobe Captivate and other systems, The platform has various user-generated extensions. In addition, the community forum has a directory of ready-made Xblock plugins that can be used to supplement and diversify the learning process on the platform.
Pros and Cons: Moodle vs Canvas vs Open EDX
Moodle Pros:
free use of the open source platform and 45 days trial period for the cloud solution,
opportunity for modifying the platform due to a large number of customized plugins and modules,
low server requirements,
option to integrate e-courses from different developers into the system and import them into other LMS without loss,
extensive built-in course design tools
Moodle Cons:
lack of professional technical support
the need to assemble the system from scratch and the cost of a web developer or administrator for setting up, adapting and maintaining the platform
requires technical competence in web development from the teacher
Canvas Pros:
free open source platform
2-week trial account on the platform with built-in content and unlimited free account for individual teachers
the ability to adopt the system with applications and extensions from a centralized EduAppCenter
exclusive Arc video platform for creating video conferences and sharing video commentary
Canvas Cons:
no built-in tools for gamification of the learning process
no clearly defined fee for using a work account for multiple teachers — you must apply for the cost on an individual basis
limited amount of built-in content creation tools
Open EDX Pros:
takes into account the needs of medium and large audiences
provides high stability both with small classes and large audiences
user-friendly interface and course creation
the ability to easily integrate third-party modules using the Xblock plugins
Open EDX Cons:
no built-in tools for learning gamification
no video conferencing option
specialization only for higher education and massive online courses
Benefits and Risks of Open Source LMSs
LMS today can be used not only in educational institutions, but also for corporate training. Their availability makes it easy to use the ready-made LMS as the basis for your educational platform or application.
Open source learning management systems have obvious advantages: they are easy to adapt to your needs through customizable plugins and modules. They can be easily upgraded and fixed.
Learning management systems are also free to use on your own servers,so itsaves on development costs. Besides, with LMS you get quick access to a large database of custom modifications and recommendations.
Yet, there are no pluses without minuses. he use of such systems entails some risks. First of all, LMSs lack full-fledged technical support teams. It can only be obtained from the user forum.
In addition, the built-in functionality of such systems is, of course, limited, and its resolution is possible either for a fee, or through plugins that must be found and installed or created by yourself.
Another risk - poor user interface. Most open source LMSs offer a basic design that can be inconvenient for regular users.
Which LMS to Choose?
Learning systems differ not only in functionality but also in what problems they can solve. Therefore, there is no universal solution to the LMS market. Each service has its pros and cons. So, let's make a long story short. We've analyzed pretty much all of the important stuff. And now it's time for a brief conclusion.
However, Open edX is a favorite of many users today as it has tons of marketing tools. It is easy to customize, has a user-friendly interface, and it is free. Go with Open edX if you need a modern version of a custom platform with extensions that you can easily install and use for massive online courses or corporate training.
If you are looking for an easy-to-use platform with high customization optionsand a mobile-friendly interface, choose Canvas. Of course, here you´ll need to pay a little bit.  Take Canvas in case  you look for  a platform that has interactive tools for involving students into the learning process, primarily through advanced video services and an extension center.
If you are a large company with big plans and resourcesto hire an IT company to build your educational project, we recommend Moodle. You'll need to pay for almost every extra feature, but it is worth it because it has all the imaginable features to use. Choose Moodle if you want to work with a platform that is customizable with many plugins, has a traditional design, and it is designed for a school audience focused on teaching in traditional classrooms.
Still, we would recommend choosing according to your needs and expectation of your customers. To understand whether a system is right for you or not, you need to try solutions from each provider.
When choosing a platform for online training, we recommend that you test several services:
Choose some systems from our list.
Place 3-4 lessons on each of them.
Add a test landing page.
Evaluate the convenience of working with the service and the time spent on development.
Take your course to assess customer usability.
Test the mobile version.
Fulcrum.Rocks Expertise
Have you read the whole article, and you are still not sure which LMS to pick? Are existing distance learning systems not suitable? Do you want to create your well thought out LMS? Contact us! We will find the right words for LMS consulting, help you to choose the solution best suited for your business needs... and, of course, take care of all the development stages.
Fulcrum will launch any Edtech business into space! If you don't believe us, take a look at our latest educational projects like Kör or Dolt. Clients around the world trust our team in creating a top-notch and high-quality product.
source:
https://fulcrum.rocks/blog/how-to-choose-lms-between-moodle-canvas-openedx/